NSH Training Centre - the partner for tailor-made advanced training courses
NSH is the largest private provider of language courses and commercial education and advanced training in the greater Basel area. When it comes to special challenge, we are the first port of call for our customers, employers and public authorities.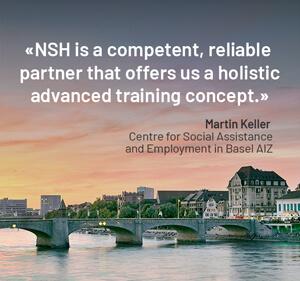 Language school
Learn languages under competent guidance.
The right offer for every goal - participants can learn languages from scratch or deepen their existing knowledge. In our Goethe examination centre, the desired levels can be completed with a globally recognised certificate.
Extensive range of languages
German, English, French, Italian and Spanish. 
Versatile course formats
Crash courses in the morning
Standard courses in the evening and on Saturdays
Examination preparation for language certificates
Individual lessons or study duos
On-line language trainer
 
Business School
Everything around commercial knowledge.
In the business field, the NSH offers a wide range of commercial training and further education courses, as well as systematic support in finding internships.
Pre-course in commerce / bridging opportunity
ECDL certificates
Private remedial lessons or study duos
Preparation for various entrance examinations for school and work
VSH Office Diploma
VSH Commercial Diploma
Commercial training for the Federal Certificate of Proficiency (Eidgenössisches Fähigkeitszeugnis, EFZ)
Short commercial training programme EFZ
EFZ commercial training as refresher course for adults
Additional commercial training to qualify as a 
VSH business person
Tailor-made offers
On request, we can adapt our language and business school course models to your desired format.
We can also compile tailor-made courses:
Basic PC skills
Basic applications of Microsoft Office
Application training
Working and study methods
Self-organisation and time management
Computer and presentation skills
Sector and subject-specific language training
 
The focus of our collaboration is on the participants. Personal, holistic counselling, categorisation and support are our top priorities.
 
We use our experience to recognise and develop the potential of course participants. In a relaxed working atmosphere, our experienced lecturers guide them in a structured way and support them individually towards stated goals.
We support you in all administrative matters with direct contact persons, short communication channels and a flexible and solution-oriented approach.
 
ipso! for even more opportunities
NSH is part of ipso! Our group comprises 8 independent educational brands with a wide range of offers in different areas of competence:
Trade and languages
Business and management
Technology and IT
Health and exercise
Vocational training and adult education
Pre-school and primary school